Lana Soroka

Agent

in Batavia, NY
Associate Information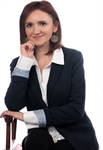 Languages Spoken
English, Other
Professional Designations
REALTOR
Expertise Types
Beach Properties, Condominiums, Land, Manufactured Homes, Residential, Residential Investment, Second Homes, Single Family Homes, Townhomes
Real Estate is more than a profession to me; it's a passion. I love helping new friends find the perfect house to make their home. I love helping sellers stage their home to quickly attract qualified buyers. And as crazy as this may sound, I love all the paperwork and the process. I am super-detail oriented and make the entire experience feel fun, easy and as stress-free as possible.
My top priority is to make clients happy. To achieve that goal, I use a pretty simple three-step formula. First, I listen well. Every client brings a specific set of wants and needs. I take time upfront to make sure I understand them. Next, I research to make sure we have the best possible market information. And then I apply the Golden Rule. It's the secret sauce I use to treat every one of my clients the way I would like to be treated.
Here's what that specifically means. I use an Eastern European work ethic that is tireless. Long ago, my parents taught me how to work really hard. Many think I bring a 24/7 commitment to my clients, but the truth is, I take a few hours each day to sleep. Occasionally, I might even repurpose a piece of vintage furniture, or read a novel.
My personality is not for everyone. I protect my clients with blunt, honest, fact-based opinions even if my insights are unpopular. I have a dry sense of humor, and love to laugh. I'm a tough and effective negotiator. My client's financial interests matter to me. There is never a doubt whose side I'm on.
It might be a good time to share what clients have said about their experiences. "Lana is awesome. Her ease with different cultures helps her get along with everyone." "She is super professional."
My friends and family would probably say I'm empathetic and passionate about helping others. People just getting to know me might think I'm relatable and enthusiastic. (Given all the possible things people could say or think, those seem pretty good.)